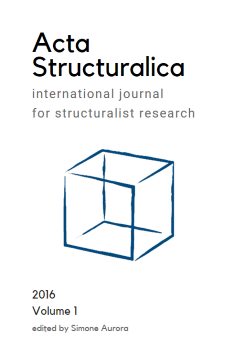 Roman Jakobson and the transition of German thought to the structuralist paradigm
pp. 1-15
Abstract
This short paper, rather than providing a thorough analysis of the very broad theme entailed by its title, aims only to programmatically outline the contours of a general framework for future research on structuralism and its genealogy. In essence, I wish to argue that mainstream approaches to structuralism's history need to be significantly broadened, not only to better account for the contributions of Eastern and Central European thinkers, but also to take into full consideration structuralism's deep, complex and rich roots in 19th Century German thought. To make this point, I will succinctly compare three distinct historiographical models of structuralism ("French", "East-West", "Jakobsonian"), each of which provides a very rough and selective, yet highly contrastive map of the intellectual and personal networks that underpinned structuralism's development up to World War II. Thanks to this basic comparative exercise, I hope to highlight the reductionistic, limiting nature of the first two models with regards to the more complete (if not exhaustive or definitive) third one and to cast further light on Jakobson's crucial function as a communicator, synthesiser and passer of ideas between scholars, disciplines and intellectual traditions.
Publication details
Published in:
Aurora Simone (2016) Acta Structuralica 1.
Pages: 1-15
Full citation:
Flack Patrick (2016) "Roman Jakobson and the transition of German thought to the structuralist paradigm". Acta Structuralica 1, 1–15.