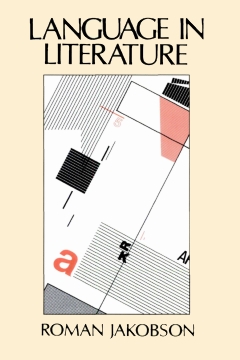 Language in literature
Abstract
Among the essential items in this collection are such classics as "Linguistics and Poetics" and "On a Generation That Squandered Its Poets" and illuminations of Baudelaire, Yeats, Turgenev, Pasternak, and Blake, as well as the famous pieces on Shakespeare and Pushkin. The essays include fundamental theoretical statements, structural analyses of individual poems, explorations of the connections between poetry and experience, and semiotic perspectives on the structure of verbal and nonverbal art.
Publication details
Publisher: Beacon Press
Place: Boston
Year: 1987
Pages: 548
ISBN (hardback): 9780674510272
ISBN (paperback):
ISBN (digital):
Full citation:
Jakobson Roman (1987). Language in literature, ed. Rudy Stephen, Pomorska Krystyna, Beacon Press, Boston.